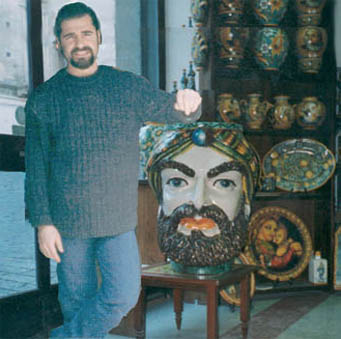 Besnik Harizi, produces potteries in Caltagirone : monumental sculptures, bass-relieves, holy water stoups, personalized candy-boxes,particular vases and plates; He also makes tiles covering, wood and stone sculptures, cloth painting. He accepts E-mail and/or phone orders.
BESNIK HARIZI
Lives and works in Caltagirone, He has attended the
Academy of Fine Arts, He has taken part in different art-exhibitions ,both in Caltagirone and in many parts of Italy.Many-sided artist, engaged in various sectors of images .
He exhibited, from 21 st December 1996 to 6 th January 1997, some of His works at the exhibition "PERCORSI", which took place in the 15 th century Corte Capitaniale di Caltagirone.
He took part in the first show "Artigianato alle Ciminere" in Catania from 13 th December 1997 to 11 th January 1998, and He is Sponsor of 7 th Concorso Ippico Nazionale Salto Ostacoli Tipo C .